Song Analysis- Thank God I Do: Lauren Daigle
This is my analysis of the song Thank God I Do by Lauren Daigle.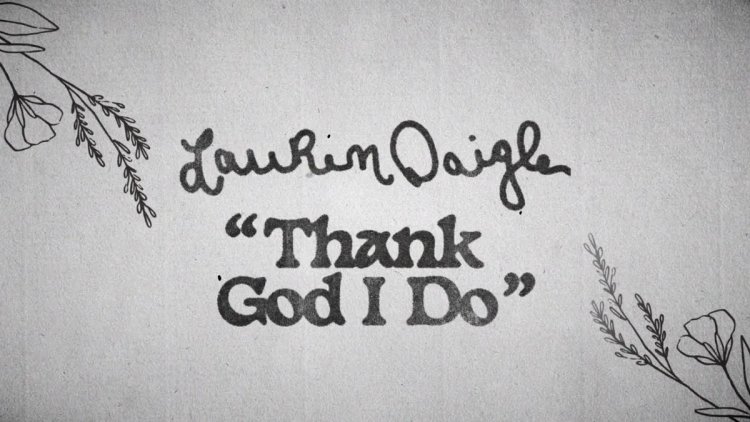 credits go to lyric video https://www.youtube.com/watch?v=OoEr8BSsrxg/
This song really speaks volumes when it comes to how hard life has actually been the last few years especially with it starting with the lockdown of 2020. I was a junior in high school at the time and I truly didn't realize how much the lockdown alone would affect me. If it wasn't for God (even though at that point I wasn't believing in him) I wouldn't be here today. God is the reason I was able to fight and make it through everything that's happened. As the song says. I don't know who I'd be if I didn't have you. This lyric is so true, especially for me. If it wasn't for God I really don't know who I'd be. God is the living water and the breath in our lungs. I am so thankful that we can wake up everyday and worship a wonderful God that truly loves us and his son loves us just as much. If it wasn't for his son dying on the cross for our sins I don't think any of us would be where we are today. God is just so good and this song is a good reminder of that. The song talks about being in tears and all the struggles that we as Christians go through. A lot of my christian walk has been questioning whether or not God is even there for me. My walk has been a lot of trials and I continue to mess up and I know that God is there and I know he loves and cares for me. I just know that I need to live my life for Christ alone and strive everyday to be just like him. There's the story of the footprints in the sand and that when we only saw one set of footprints that was when God was carrying us and that's just so true. God is the provider and the one that we can depend on for all of our needs. God will always provide one way or another and we are able to worship him and be in his grace every single day. God has many names and this song when it gets to the bridge talks about some of these names. Safe place, hide away, anchor, saving grace, constant, steadiness, shelter, oxygen. God is all of those things and more and if we truly follow and listen to God we will know what he wants us to do and it will make it easier to sin less. That isn't to say we won't still sin as everyone sins, but it'll be easier to not have those same temptations. As the bible says in Ephesians 6 verse 11 "Use all the armor and weaponry that God provides, so that you will be able to stand against the deceptive tactics of the Adversary." This verse is so true in the fact that if we put on the full armor of God and utilize his word we will be able to defend ourselves more easily as opposed to doing it on our own. There is no way we can go and do this life on our own. If we could do this life on our own we wouldn't need God and if you notice in this world the people without God are typically lost and don't know where to go. God is the ultimate compass and if we always follow his pull he will take us in the right direction. This has been my peace and I know that God truly loves us and only wants what's best for us if we will just listen his will guide us all the way. As the song says. I don't know who I'd be if I didn't know you. Thank God I do. And this is just so true. Thank you for reading!
Go in peace,
Jordan