The Gospel Of Jesus Christ
This is the Gospel message written in a way to make the reader understand the Gospel message of the cross in a clear way. This is a Gospel Tract by Bible Out Loud, and it is available in PDF, downloadable for free at www.bibleoutloud.org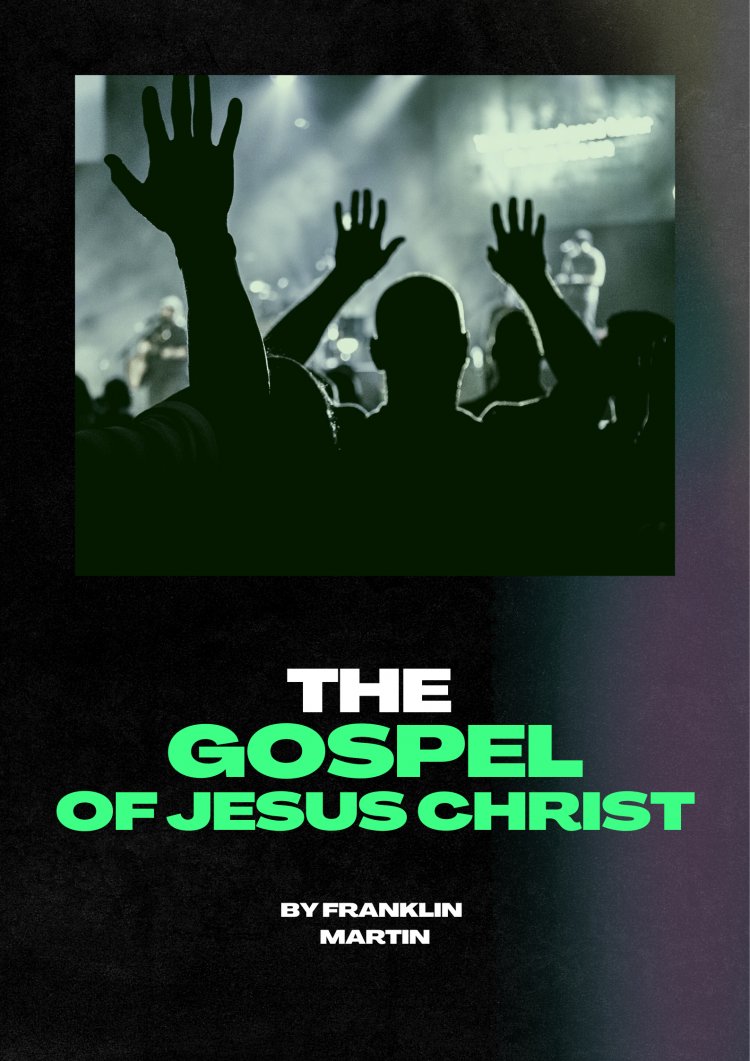 The Gospel
The word gospel, in the original biblical Greek language, is euangelion. Eu, means "good" and angelion, means "message" or "news"—these two words together mean "good news." Christians are commanded to proclaim the Good News to all nations, meaning the entire world. To fully understand and appreciate the Gospel, or Good News, we must first learn about the bad news that all of humanity is faced with. The bad news is that all human beings are sinners (Romans 3:23). Why is this bad news? In Acts 17:31 the Bible says, "because He (God) has fixed a day on which He will judge the world in righteousness..." God is the standard of righteousness. Psalm 89:14 says, "righteousness and justice are the foundation of His (God's) throne." God is holy, set apart, morally pure, and perfect in all His ways (Psalm 18:30). Dear friends, this is the standard by which the world will be judged. A righteous, holy, and just judge, who promises in His word that "He will by no means leave the guilty unpunished" (Exodus 34:7). We humans are the guilty—sin makes us guilty. One might ask the question, "What is sin and who gets to define it?" The answer is that God gets to define what sin is. He tells us in His word in 1 John 3:4 what sin is: "Everyone who practices sin also practices lawlessness, and sin is lawlessness." The Ten Commandments are God's moral law. You and I have broken God's law and the Bible confirms this reality in Romans 3:23. "All have sinned and fall short of the glory of God." We often compare ourselves with others, thinking that there are people out there who have done far worse things than we have, so we end up proclaiming our own goodness and judging ourselves by the standards of man, rather than the standards of God. God is perfect and has never sinned. He will judge all sin—meaning every sin committed by humans. If you have ever lied, then it means you have broken the ninth commandment, one of God's moral laws. Lying is a sin and must be punished. Remember Exodus 34:7? "He (God) will by no means leave the guilty unpunished."
People normally would not have a problem with the idea of God punishing a murderer or a rapist because of the severity of those deeds, but God is just. If He punishes the murderer and the rapist, then He must punish the liar and the thief because all have one thing in common—they are all guilty of breaking God's law. Although shoplifting is not as severe as murdering an innocent man, we still expect a punishment for both crimes in the court of law because that is justice in a court room. God is just and promises to punish all sin. The Bible says, "All liars, their portion will be in the lake that burns with fire and sulfur, which is the second death" (Revelation 21:8). So far we have only been focusing on one commandment. Have you ever taken something that did not belong to you, regardless of its value? You shall not steal. Have you ever dishonoured your parents? Honour your father and your mother. Have you ever used God's name in vain? You shall not take the name of the Lord your God in vain, for the Lord will not hold him guiltless who takes His name in vain. Have you ever had sexual intercourse outside the context of marriage? This is known as fornication, which 1 Corinthians 6:9-10 forbids. You shall not commit adultery. In fact, Jesus goes on to say in Matthew 5:27-28, "You have heard that it was said, 'You shall not commit adultery,' but I say to you that everyone who looks at a woman with lustful intent has already committed adultery with her in his heart." This means that even our thoughts are exposed and judged by God. The standard is unattainable for human beings, and these are not even all of the commandments, but they are enough to show that we as men are guilty. We all have broken at least one, if not all, of the laws mentioned above. It is undoubtedly clear that we need a Savior, one who can save us from the inevitable judgment and wrath of a righteous God. The standard is high and leaves man condemned (John 3:18), but scripture also speaks of God being rich in mercy (Exodus 34:6). "The Lord, the Lord, a God merciful and gracious, slow to anger, and abounding in steadfast love and faithfulness."
We see God's mercy demonstrated in the perfect sacrifice of His Son, Jesus Christ, which brings us to the euangelion, the good news. John 3:16 says, "For God so loved the world that He gave His only Son that whoever believes in Him should not perish but have eternal life." What does this tell us? One thing we clearly see in this verse is God's love for humanity. He loved the world so much that He sent His Son to die in its place. Why was it necessary for Christ to suffer and die? Romans 6:23 says, "The wages of sin is death, but the FREE GIFT of God is ETERNAL LIFE in Christ Jesus our Lord." But we also see God being just and righteous by sending forth His Son as a sacrifice for the sins of the world, instead of just turning a blind eye to the sins committed by humanity. The wages of sin is death—Christ took that punishment by dying on the cross as a substitute for sins committed by the world. "For our sake He (God) made Him (Jesus) sin who knew no sin, so that in Him we might become the righteousness of God" (2 Corinthians 5:21). Romans 3:25 states, "Christ Jesus, whom God put forward as a propitiation by His blood, to be received by faith. This was to show God's righteousness…" God's perfect plan of redemption allows God to be just and the justifier of the one who has faith in Jesus (Romans 3:26). Justice and mercy meet at the cross. Now God commands all people everywhere to repent... (Acts 17:30). All who repent and believe (put their faith in Jesus) will receive forgiveness and the free gift of everlasting life (Hebrews 9:22, John 3:16). The word repent means "a change of mind" or "to turn from your ways." In other words, it means changing your mind regarding your lifestyle, regarding God, regarding Jesus, and changing your life by surrendering your will, and submitting to God's will, transferring your trust from yourself, to the Savior, Jesus Christ, who came not to condemn the world but to save it from the wrath of God (John 3:17). Listen to the words of Jesus in John 8:34: "Truly, truly I say to you, everyone who practices sin is a slave to sin," but He then provides the solution to this enslavement in verse 36, "So if the Son sets you free, you will be free indeed." Salvation only comes through Jesus Christ— "I am the way and the truth and the life. No one comes to the Father except through Me (Jesus)" (John 14:6).
The wages (payment) we receive for sin is death. Ezekiel 18:20 states that "The soul who sins shall die," but then Christ came, suffered, and died in our place, receiving the just penalty that we deserve, which is death, but Jesus defeated death when he rose after three days. Now Jesus says, "I am the resurrection and the life. Whoever believes in me, though he die, yet shall he live, and everyone who lives and believes in me shall never die (John 11:25-26)." Do you believe this? We cannot save ourselves. The Bible says in Psalm 3:8, "Salvation belongs to the Lord." He does the saving, and we must believe what Jesus did on the cross was sufficient to save us from eternal condemnation and grant us everlasting life. Ephesians 2:8-9 says that salvation is by GRACE through FAITH. It is not based on works, but is a gift of God. A gift is freely given, not earned. Trust God. He promises a new heart in Ezekiel 36:26-27: "And I will give you a new heart, and a new spirit I will put within you. And I will remove the heart of stone from your flesh and give you a heart of flesh. And I will put my spirit within you, and cause you to walk in my statutes and be careful to obey my rules." God promises a new birth, born again and born of God, and a new heart with new desires, going from a slave of sin to one who is free in Christ and loving that which is right in the eyes of God. This is a miracle, one which only God is able to perform—just trust his promise of salvation and receive the free gift of everlasting life. Call on him who saves. Romans 10:13 says that "Everyone who calls on the name of the Lord will be saved." Romans 10:9 further states that "if you confess with your mouth that Jesus is Lord and believe in your heart that God raised him from the dead, you will be saved." Do not reject the message of the cross. Do not regard it as foolishness. The Gospel is the power of God for salvation (Romans 1:16). As James 4:14 puts it, "You do not know what will happen tomorrow…" Your salvation is literally a matter of life and death. Proverbs 9:10 says that "Fear of the Lord is the beginning of wisdom…" Fear God and be wise. REPENT AND TRUST IN JESUS, THE SAVIOR OF THE WORLD!
If you would like to download this Gospel Tract and others for distribution, go to www.bibleoutloud.org and download it for free!!